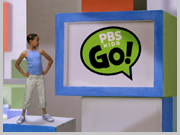 POST Magazine
Head Gear Sets The Tone For PBS Kids GO! by Marc Loftus
Toronto- Head Gear Animation has created the environment for PBS Kids GO!, a new broadcast and online multimedia destination specifically created for early elementary school kids. The new package was designed and directed by Head Gear co-founders Steve Angel and Julian Grey, and was executive produced by Sue Riedl, working closely with the PBS Kids Creative team.
The environment features real kids alongside popular show characters in a surreal and dynamic world of animating boxes.
The new packaging consists of 65 elements including bumpers, IDs, system cues and end pages. Live action kids were shot against a greenscreen, and the "city" was built on a miniature scale and shot frame by frame using stop motion animation. Each kid was composited into the stop motion world by a team of Head Gear Adobe After Effects artists.
Filed Under
Directors
Related Projects